Today we're here!
London Art Fair.
Stay tuned, something cool's coming!
Archive Inspiration
Archive inspiration for our next garments.
Stay tuned!
Model: Adrian Romanowski – Ph: Alessandra Huynh
We Wish you a Happy Christmas!
Happy Birthday, Vogue!
17th December 1892
The First Vogue was issued
"One should look forward rather than backwards."
~ Anna Wintour
Wealthy Patrons Used Art for Power.
Who were they?
Artists:
Pieter Paul Rubens – Immaculate Conception
Guercino – Immaculate Conception
Gitto – Immaculate Conception
Raffaello – Madonna di Foligno
Tiepolo – Immaculate Conception
Velázquez – Immaculate Conception
SUGAR & SPICE
Last week I had a day trip to London, between meetings and catching up on what's going on, I managed to check out the Christmas lights in Knightsbridge.
The French Maison Christian Dior have dressed has 44 windows of the Harrods for a Winter Wonderland Wow experience not to be missed.
It has taken a year of more than 200 creatives people from Couture cuisiners and designers to build and decorate a Fashionably Festive Gingerbread Sugar and Spice stage set wonderfully sweet feel-good.
Energy crisis or not the show must go on… loved it!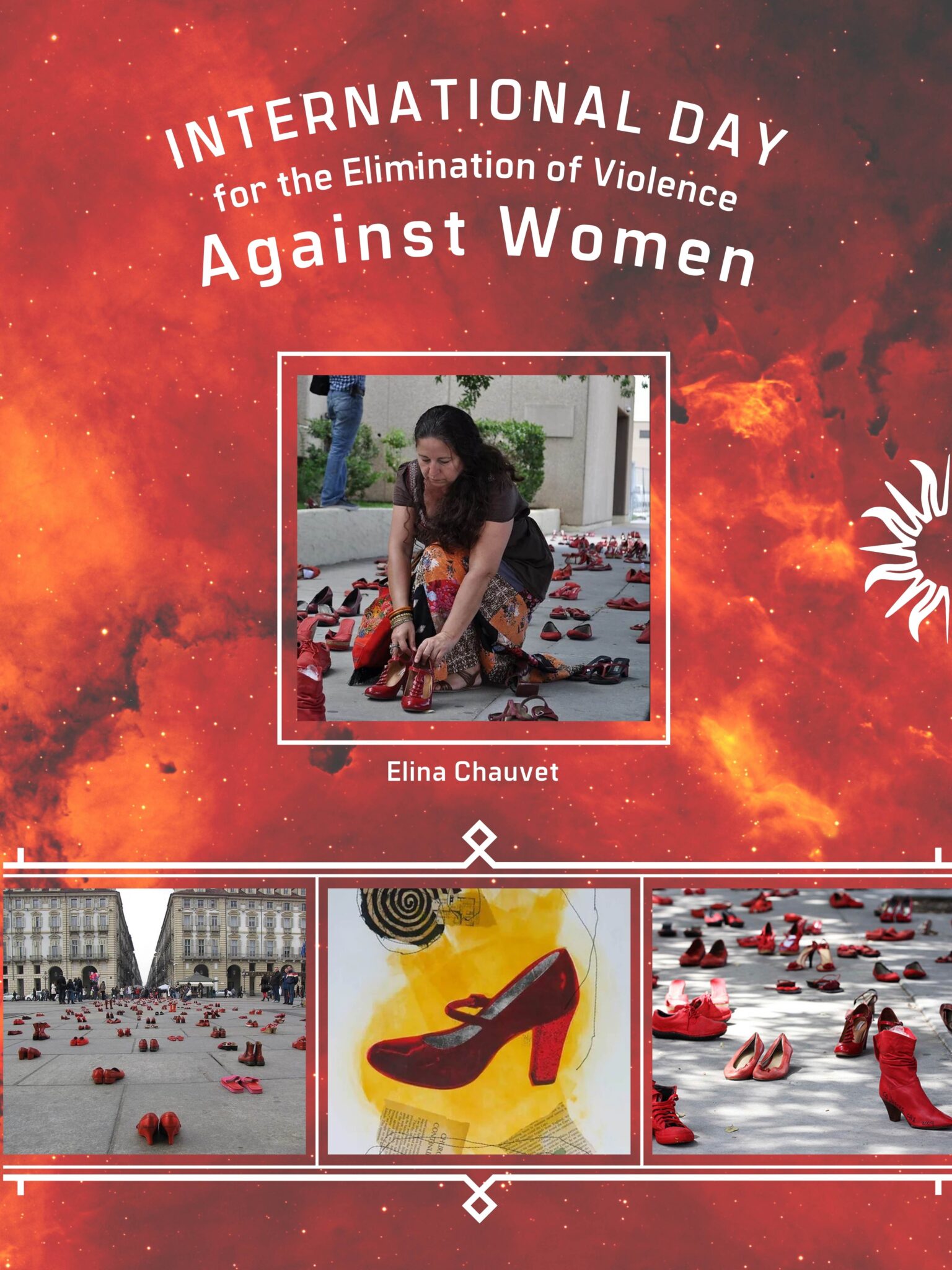 INTERNATIONAL DAY FOR THE ELIMINATION OF VIOLENCE AGAINST WOMEN
25th November
International Day for the
Elimination of Violence Against Women
It all started with the Mirabal sisters, in 1960, and after that women kept fighting.
Elina Chauvet created the "Zapatos Rojos", an installation that remembers all the women victims of violence.
WASTE AGE
Design is about making choices and deciding which materials, putting color concepts together combing pieces that work together to create style.
The vocabulary of fashion is to make pieces and objects by understanding and interpreting trends. We live in the age of waste. Design can help us leave it behind, but it isn't easy.
ART WEAR IN FLORIDA
FITCE
Fantastic Experience in Fort Lauderdale, Florida
Team with Michele Crocitto
Thanks to the Italian Delegation at FITCE
Artists: Léon, Giuliano Grittini, D'Elia Anna, Magnelli Adolfo, Vittorini Orgeas Eleonora, Gabrielli Federica
Art Wear Runway
Hosted by Sustainable Fashion & Tech Week 
FITCE 2022 – Florida International Trade & Cultural Expo
FITCE Presidential Reception
GRAND BALLROOM A-B
October 19, 2022
5:10 PM – 7:00 PM
#SFTW
At Broward County Convention Center in Fort Lauderdale World EXPO FLOOR
INTERNATIONAL FASHION LEADERS IMPACTING SUSTAINABILITY
Thursday, October 20: ROOM 209B 11:00 AM– 12:00 PM
More info:
https://www.eventbrite.com/e/fitce-2022-florida-international-trade-cultural-expo-tickets-377921903587
The Art of Fashion
La Belle Epoque Romana
September in Rome sees the return to elegance. This is the first gala event dedicated to the Belle Époque Romana, the pleasure years, "Gli anni di piacere", just as before, today the Duo Michele Crocitto art director & Yasmin Naqvi London Fashion designer are carving out a niche, creating and making creating art experiences. A selection of six artists has been chosen to have their artworks reworked and handcrafted into printed panels. Fine silk cotton fabrics from Como, light airy fabrics, and prints in sumptuous colors have then been reworked and designed by Yasmin Naqvi with her London edgy all-season Artwear capsule collection.
Where Wearing art becomes an experience, "un piacere".
"Look good, Feel Good, Do Good."
Support the future of art & artists what we make a renewed spirit of togetherness and the grounding of essential beauty. "Il piacere", la  Belle Époque in these uncertain times and backdrop of war and tragedy.
Designing out of Waste
Sustainable T-Shirts
I have been working in the Fashion business in Italy for decades. During my years in the industry, fashion and sustainability have become increasingly intertwined. Due to a plethora of causes from increased access to mobility, unethical agriculture, and admittedly, fashion production we have succumbed to living in the age of waste. Fashion and design promote throwaway culture, with the ever-shortening micro-trends becoming as short as two weeks according to trend forecaster, Mandy Lee (Lithium Magazine). The acceleration of trends has only promoted fast-fashion brands as they are easily accessible and cheap, yet many don't know or choose to turn a blind eye to the excessive waste and unethical productions of these brands that intern trickle down to a sizeable negative impact on global warming.
According to UNECE (2018), "fashion production makes up 10% of humanity's carbon emissions."
While fashion and design have negatively contributed to the climate change crisis, the industry is making conscious efforts to reveres the damage of its past. Through sustainable production methods, Upcycling, and the promotion of second-hand shopping, consumers and designers are making a responsive effort to change society's reckless consumer culture.
I am a change-maker looking to re-establish the lost values in a world full of excessive waste and trash. Yasmin Naqvi is part of the new generation of innovators, redesigning and rethinking societies' relationship to everyday things. From Fashion to packaging, fashion technology, and restoring throwaway items, Yasmin Naqvi strives to reinstate quality and longevity back into Fashion.
Author: Sufia Ferdos
Milan Fashion Week
February 2022
Milan Fashion Week, inspiration around every corner!
With Milan Fashion Week already halfway over there have been many inspirational moments to explore. The Prada show exhibited a simpler collection from past years with themes of humanity, nostalgia, and shared memory. As well as featuring a more diverse range of women on the runway with the likes of Euphoria star, Hunter Schafer closing the show.
Although access to shows is limited, Milan has plenty of Fashion inspiration to offer, from open exhibitions, endless street style, and the designer stores themselves. If unable to attend the Balenciaga show this year head to the Milan store and check out the unusual window display. The store features a Mannequin positioned in contorted and sexualized positions, wearing a signature Balenciaga bodysuit and shoes from their most recent collaboration with Crocs. Artist, Anna Uddenberg challenges social conventions with the notion of the objectification of women as products to be bought by the consumer.
In an article with Pin-Up Magazine (2018) Uddenberg explains "I think the link between feminine expressions and conformist consumer options is the idea that it's done for someone else's pleasure and therefore it's connected to victimhood".
Passers-by are fascinated by the art piece in the window as they stop to view the mannequin from different perspectives. Not only does this innovative display of fashion challenge the bystander, but may inspire them to think outside the box. 
(credits: Anna Uddenberg works of art)
Upcycling
Upcycling, also known as creative reuse, is "the activity of making new products, objects, out of old, used things or waste material"1. Although this term has been around for almost 30 years now, in the past few years industries and brands have finally started to become more sensitive about the increasing amount of waste.
Globally every year we produce over 2 billion tons of waste, a third of which is neither ends up in the landfill nor the recycle economy circle.2
In the fashion industry, the problem is even bigger: this area produces 10% of the global emissions of CO2 and only 1% of the fashion waste gets recycled!
Yasmin Naqvi has chosen to be one of the pioneers in this upcycled fashion business. She wants to be a change maker. The brand's first upcycled collection came out in May 2021: the Sunshine People Capsule 100% Cotton t-shirt with a message. The face is designed to represent people that believe in the same values. This fabric application is upcycled and sustainable, as it comes from deadstock and is made by local digital artisans. The fine embroidery enriches the T-shirt and it's aimed at targeting people that have the same values.
The Capsule collection is personalized with a reconditioned printed yellow band "Sunshine People" message and logo that decorates the bottom of the t-shirt.
The designer Yasmin Naqvi is working on new projects with a unique Italian touch and special attention to materials, based on her motto "Designing out of waste" including upcycled fabric from industrial by-products and scraps.
Please subscribe to the newsletter, stay up to date about all the news, and support our team. Follow the brand and the designer Yasmin Naqvi pages on social media. Join us and spread the philosophy "Look good, Feel good, Do good!"
---
1 Cambridge Advanced Learner's Dictionary & Thesaurus © Cambridge University Press. https://dictionary.cambridge.org/it/dizionario/inglese/upcycling visited on 02/10/2022.
2 Ludcke Robert, "Rifiuti: la nuova Eldorado" in The sustainable Mag, n.2, 09/2021, TSM srl Società benefit.

Wo-Man Crossing Over
Yasmin Naqvi has created a contemporary Autumn Winter Capsule Collection to celebrate 25 years in the business. The term well-dressed has a multi layered connotations especially in today's diverse world where the concept of fashion is constantly changing; there are no fixed standard or norms. The message I want to convey through my crossing over collection and my dress style is that people from different cultures can cross over and co-exist. The collection is a balanced, refined series of looks that are simple stylish and wearable. Luxury materials are all Italian and well-designed, made by some of the best artisans around. Bringing together design, dance and fashion, expressing comfort, movement and class. Stay tuned and check us out!

R&J Capsule collection
This Capsule collection is dedicated to the one of the best known and well-loved tragic love stories of all time: Romeo and Juliet. The British play written by Shakespeare was inspired by the originally tale written by Luigi Dapporto from Vicenza. He created the play about the doomed romance between to teenagers from feuding families. The story has become one of the most well-known love stories ever written. Verona is now " the city of love" and one of the main tourist attractions for romantic travellers in Veneto. Juliet's house in Via Cappello, 23 is where you can find the famous balcony, where Romeo had declared his love to Juliet. Hundreds of people every day come here to take pictures, to swear fidelity or simply to admire the location. The capsule includes a series of elements designed to represent and celebrate the two legendary lovers.
The heart with the sword symbolizing the tragic love Romeo has for Juliet; the balcony from where they declared themselves lovers and the Crown symbolizing their nobility. Each model is named after the main characters from the different interpretations of the original tale to Leonard Bernstein's West side story. Materials and models are all made and designed in Italy.
Wool Fun Facts
Antibacterial and antimicrobial – Wool is the best fiber to wear in these difficult times. The fiber has a waxy coating that contains fatty acids to prevent the growth of Mold and bacteria. This mean that your wool products do not need regular washing and will smell fresh after repeated use, unlike synthetic fibers.
Uv Protection – Sheep wool has a natural uv Protection factor up to +30. Wool naturally absorbs sun uv ryes before it can get to yours skin.
Easy to care for – As you probably notice wool dose not need a regular washing. The fatty acid in the wool fiber inhibit the odor bacteria as dirt, dust and lint whom are repelled by the waxy coating. The scale surface does not allow stains and dirt to be absorbed, they remain on top of the fiber making it easier to get rid of.
Durable – Wool is a fantastic material it can withstand being bent 20000 without breaking! It's natural elasticity brings the fiber to be less likely to break so your wool item less likely to tear. Compared to other fibers like cotton that can stand 3000 bends, or silk that breaks after 2000 bends, the capacity of wool to get back in shape are just fantastic.
Insulates even when wet – The wool fibre can absorb half of its weight in moisture. Just after it's saturated for 60% it will feel wet to the touch. Since it retains 80% of its insulating value it will keep you warm even if wet.
Keeps you warm in winter and cool in summer – Wool is the well known for its properties to regulate body temperature. During a cold weather the insulating qualities of the fabric trap dry air and warmth near the skin. During warm weather coil like shape the wool fiber pulls the excess heat and moisture from your skiing , helping to stay cooler.
Stain resistent – The waxy out-coating of wool helps repelling liquid instead of absorbing it, if you spill something on your knitwear it is more likely that it will slip away, and easier to clean what remains on it.
In Knit We Trust
That mix of comfort, luxury, feel of warmth and cosyness just makes you "Feel Good, Look Good and Do Good"!
It looks great regardless of age, gender or body type.
City Cape
Ultra light weight Quilted Wo-Man Cape.
A new smart outerwear idea, padded asymmetric, lines made bigger and transformed into new forms for city travel.
City Wool
Clean lines knits modern demure simplicity, well balanced proportional design and colour.
Happy Sunny Days
Cicular sunshine shuttle knitted dress, perfect for the space tripping afternoons in the park.
City Wool Cape
It's cold outside so wrap up with the mixed cable Wo-Man unisex cardigan coat made in the best of Italian mannish alpaca mix yarns.
Step into a knit tale
The designer Yasmin Naqvi is known for her cool lux knits and products with a twist.
Yasmin sees the need for simple and wearable looks for people who face the movement every day, designing unique items that accentuate details and functionality through prestigious yarns and the best Merino Extrafine wools. An extraordinary quality is at the base of craftsmanship for garments made by hand, recognizable to the touch by the unmistakable softness. The garments are made with rigor, discipline and precision to obtain a result of lightness and softness.